We're Here For You
We're not us without you. Everything we do is designed to meet your needs and provide the singular service that has kept our business growing for six decades. There's no secret to our success. It's all about building a reputation on reliability and being true to our word. No nonsense. No elaborate claims. Just the nuts-and-bolts, round-the-clock, year-to-year extermination plans and customer service that keep your family safe and protect your personal and professional investments.
Since 1959, we've been expanding our reach, keeping up with the times, and extending our ability to offer the best practices and the most timely and safe products. From "green" eco-friendly pest-control products to humane wildlife netting and baiting to treatment protocols, we have a wide range of direct and immediate approaches to solving your pest-control problems.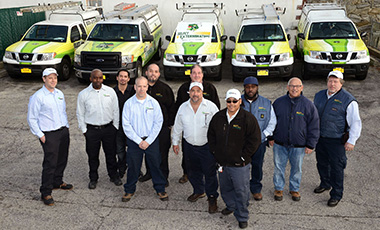 Our Mission
To become the leading provider of pest control services for our customers through providing exceptional customer service, using the latest environmentally friendly practices and continuously updating our technology to create a safe and easy pest removal process. We strive to be the best service company of all industries.
Ask  Henry
Do you have questions about pests & rodents in your home or office that need answering? Just Ask Henry. Or, see other frequently asked questions from people just like you!
[searchform placeholder="Type your pest" class="homesearch"]
Our Vision
Select Exterminating allows all residential, commercial, and industrial properties to operate in a clean, pest free environment with incomparable customer service, technicians and practices.
Our Great Team
Certified Pest Control Experts