Do You Have Fleas? Call Us Immediately So We Can Help!
Full-sized fleas are insects that are a dark brown color. They are about 1/16 to 1/8 of an inch long, flattened, wingless, and with hard shell bodies that make them very difficult to crush. Fleas have large hind legs that allow them to jump very far. This makes it easy to travel around their host. A flea lays about 20 eggs per day, allowing them to reproduce very quickly.
Fleas feed by sucking the blood of animals (or any warm blooded mammal, including humans) with its specialized piercing mouth parts. Outdoors they usually land and host on rats, mice, squirrels, chipmunks, raccoons, and foxes. Indoors, they feed on your pets–and you!
These nasty insects are known for carrying diseases such as allergic dermatitis, tapeworm and a variety of bacterial infections. If you have fleas or think you do, contact us today for a free evaluation!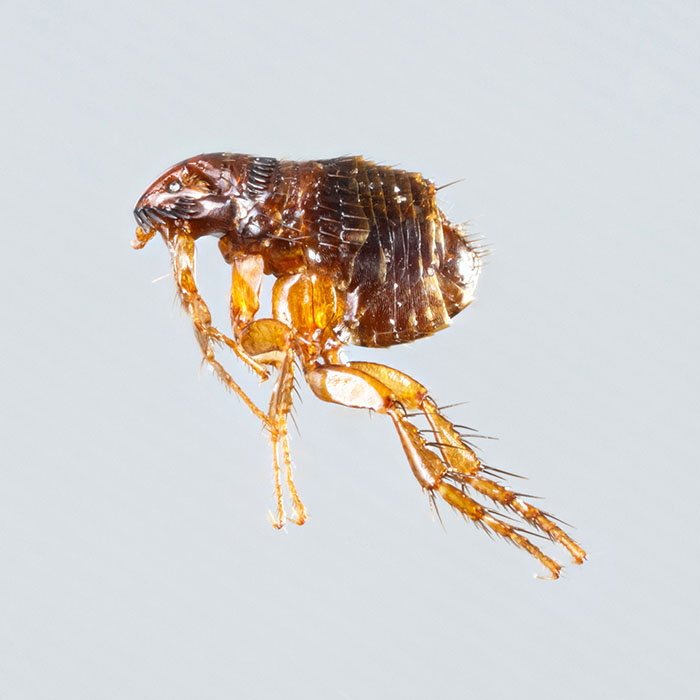 How We Work
Fleas can be small, hard to spot, and nearly impossible for most people to get rid of. If you think that you have a flea infestation, do not wait. It could get worse. Contact Select Exterminating today to learn how we can help treat your flea infestation in a safe and efficient way!
Bed Bug FAQ
How big is a bed bug?
About 1/16 to 1/8 of an inch long.
What color is a bed bug?
Dark shinny brownish color.
What does a bed bug look like?
Flattened laterally, wingless, and with hard bodies.